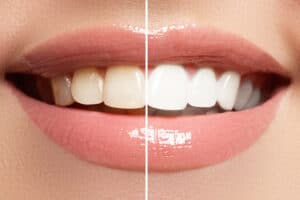 Teeth whitening has taken the world by storm, and for good reason. Its long-lasting, affordable, and immediate results draw millions of people around the world. Our dentists, Dr. Michael Mingle and Dr. Jennifer Rankin are proud to offer the finest teeth whitening in Aurora, CO. We use the latest gels and procedures at Rankin and Mingle Dentistry to ensure you have a bright smile for years. 
What is Teeth Whitening?
Teeth whitening is a simple process that removes stains and whitens your teeth. Treatments vary from at-home kits to gels applied in the office. Teeth whitening has become increasingly popular and affordable, becoming the safest and most common cosmetic dental treatment available. While teeth whitening may appear solely cosmetic, it also improves oral health by removing stains and bacteria. 
What are the Advantages of Teeth Whitening?
Teeth whitening hosts many benefits, from a self-confidence boost to improved oral hygiene. As a result, teeth whitening has something to offer everyone: 
Boost your Oral Health.

While teeth whitening may seem like a one-dimensional service, that couldn't be further from the truth. With our teeth whitening services, we remove stains and clean the tooth's surface. 

Professional Teeth Whitening is 100% Safe.

We use the highest-quality whitening formulas and gels to provide you with the best experience possible. Not only will we leave your teeth multiple shades lighter, but we'll also keep them strong and safe. 

Long-Term Results.

We design our teeth whitening to last. If the whitening begins to fade over time, we can easily re-whiten them with minimal delay. With proper care, results can be visible for years. 

Dress to Impress.

Our smiles play a significant role in how we present ourselves. So whether you're looking to seal a business deal or ask someone to marry you, a white smile will set you apart from the rest. 

Confidence Boost.

It's easy to feel great about yourself when you look great. Greet yourself each morning with a smile you'll be eager to share. 

Teeth Whitening is Fast.

Unlike lengthy procedures, teeth whitening is a quick, harmless procedure. You'll see results within the hour! 

Our Treatments are Personal.

We'll examine your teeth with each treatment and determine the best course of action. This way, we'll improve results, increase the longevity of the treatment, and give you a smile you'll be proud to wear.
How to Keep my Smile White?
The best thing anyone can do is maintain healthy oral habits, such as daily brushing and flossing. For those wanting to go the extra mile, you can avoid stain-prone foods such as red wines, coffees, teas, fruit juices, soy sauce, and cola. 
How old do you Have to be for Teeth Whitening? 
The minimum recommended age is 15 and there is no age end point.  It depends on the individual, and it can only happen after the permanent teeth have erupted. However, it's not always recommended for teenagers and children as teeth whitening may wear down the enamel and increase sensitivity as their teeth develop. 
Will Teeth Whitening Work on Previous Treatments? 
Are you hosting a dental implant, bridge, or crown? Unfortunately, no. Professional and at-home whitening treatments can't affect previous treatments. Because our ceramic and porcelain structures are stain-free, they're immune to the whitening gel. If you're looking to whiten your teeth, it's advised you choose a lighter color of a dental implant, bridge, or crown to match whitening after. 
Teeth Whitening in Aurora, CO
Your teeth look fabulous in white, and we're here to help. Dr. Michael Mingle, Dr. Jennifer Rankin, and our team are ready to take your smile to the next level. With teeth whitening, we can give you a smile that fully embodies your identity and inner beauty.