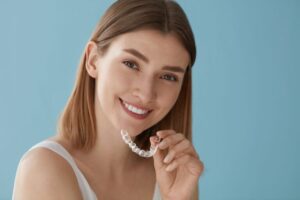 For most patients, straight teeth mean a terrific smile. But did you know that properly aligned teeth are healthier? Overlapped, crooked, or rotated teeth create a daily cleaning challenge. Food and bacterial plaque accumulate slowly in the tiny spaces that your toothbrush and floss can't reach. The acidic toxins that seep out of the bacterial sludge can lead to cavities and inflamed, diseased gums. Helping even a couple straggling teeth find their proper place can leave you with a healthier mouth.
Straightening teeth isn't just for kids! Adults often make the most dedicated orthodontic patients, and it's never too late to discuss the options for a bright, straight smile. If you're not sure wires fit your tolerance level, don't worry. Invisible methods can work extremely well for many cases, and Dr. Rankin and Dr. Mingle can help you explore the possibilities.
Orthodontic treatment can solve almost every possible bite issue, but success relies on good patient compliance. Wearing elastic bands consistently, keeping follow-up appointments for adjustments, and practicing outstanding home care can lead to a positive outcome. This commitment involves frequent preventive visits with your hygienist as well, a strategy that helps avoid permanent staining from weakened enamel and cavities around brackets. Rankin & Mingle Dentistry specializes in helping our orthodontic patients enjoy a successful outcome: a gorgeous, healthy smile.
Orthodontics involves teeth straightening and jaw alignment, combining beauty and function. Identifying problems early in development may allow easier treatment with better results, but it's never too late to discuss ways to enhance a smile!