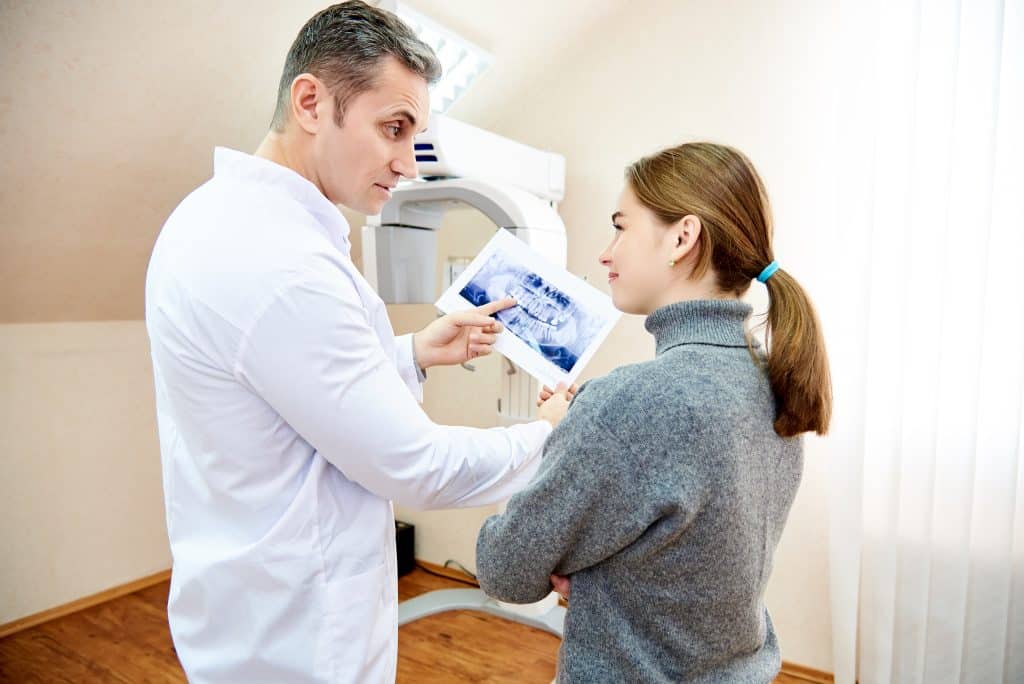 Have you been to the dentist recently for a dental exam? Rankin & Mingle Dentistry and the American Dental Association (ADA) recommend receiving them every six months. We offer comprehensive family dental exams in Aurora CO, that will leave you with a smile. Schedule an appointment today!
Why Are Dental Exams Important for Family Health?
Regular dental exams are essential for maintaining good oral health. During a dental exam, Dr. Michael Mingle, Dr. Jennifer Rankin, and our team members will check for tooth decay, gum disease, and other oral health problems. We will also assess the overall health of your teeth and gums. We may take X-rays to check for cavities or other issues below the surface of the teeth and look for any irregularities in your mouth, including spots that may be cancerous. In addition, we can check your bite and make sure that your teeth are correctly aligned.
A dental exam is also an excellent time to ask the dentist questions about oral hygiene or dental care. By getting regular dental exams, you can help to keep your teeth and gums healthy and prevent serious oral health problems from developing. For these reasons, scheduling regular dental exams for yourself and your family is essential.
Common Problems That We Can Find During a Family Dental Exam
Some of the most common problems that we can find during a dental exam include:
Tooth Decay
If we discover tooth decay, we can provide you with treatment options to restore your tooth. We may recommend a filling, inlay, or onlay. In more severe cases, we may recommend a crown or root canal.
Gum Disease
Gum disease is an infection of the gums that can lead to tooth loss. We will check for signs of gum disease during your dental exam and provide you with treatment options if necessary.
Malocclusion
Malocclusion is a misalignment of the teeth. We can assess your bite and recommend treatment options if necessary.
How Often Should You Have Dental Exams
At Rankin & Mingle Dentistry, we recommend having a dental exam every six months. However, you may need more frequent exams if you have a history of dental problems. If you are currently experiencing symptoms such as pain or bleeding, you should see a dentist as soon as possible. By visiting a dentist regularly, you can keep your mouth healthy and avoid costly dental problems in the future.
How Can You Prepare Your Child for Their First Dental Exam
We recommend that children have their first exam by age one, but as they get older, they may experience dental anxiety. As a parent, you can help them prepare for this experience by teaching them the importance of good oral hygiene habits. Explain to them that the dentist will look at their teeth and gums to ensure they are healthy. Show them how to brush and floss their teeth properly, and encourage them to do so every day. 
If your child is nervous about going to the dentist, we can also take them on a tour of the dental office before their appointment so that they can see what to expect. Taking these steps can help your child feel more confident and prepared for their first dental exam.
Family Dental Exams in Aurora CO
A dental exam is an integral part of family health. Regular exams allow us to find common problems early and treat them before they become more serious. You should have a dental exam every six months to keep your teeth and gums healthy. Children should have their first dental exam by the time they are one year old. You can prepare your child for their first dental exam by talking to them about it and making sure they know that it will not be scary.
Contact us today, and we'll ensure a bright, healthy smile for every member of your family!