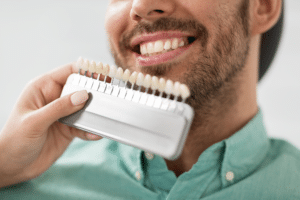 Are you looking for high-quality porcelain veneers in Aurora, CO? Then look no further. Rankin and Mingle Dentistry offer a patient-oriented treatment that focuses on safety, effectiveness, and durability. Dr. Michael Mingle, Dr. Jennifer Rankin, and our team have the tools and expertise to give you your dream smile.
What are Porcelain Veneers?
Porcelain veneers are thin, durable shields covering the tooth's exterior surface. They are custom-made and can be colored or shaped in any way. To prepare for veneers, a thin layer of enamel is removed from the tooth, making the process both enduring and permanent. As such, veneers are incredibly versatile tools that can fix discolored, crooked, gapped, chipped, or small teeth. 
The Steps of the Porcelain Veneer Procedure: 
Generally, receiving veneers takes 2-3 trips to the dental clinic: 
Evaluation and Treatment Strategy.

We consult with you about your needs and dental history. Depending on the situation, we may use X-rays and other tests to analyze your teeth best. 

Tooth Preparation.

We remove approximately ½ millimeters of enamel from the tooth's surface. This way, we enhance the bonding process, increase longevity, and make the veneer look more natural across your teeth. 

Molding.

After we remove the outer layer, we will scan your teeth. We use this scan blueprint to be sent to a laboratory to create your permanent veneers.

Temporary Veneers.

We'll send you home temporary acrylic veneers. The permanent veneers will be ready in 1-3 days.

The Fit.

We remove the temporary veneers and fit your teeth with our new, permanent ones. We'll ensure everything lines up before permanent bonding. 

Disinfection.

Disinfection will inhibit bacteria that can cause decay and improve the bond of the veneer to the tooth.  

Installation.

A special bonding agent is used to attach the veneer to the teeth. We use ultraviolet light to harden the cement quickly, safely, and effectively. 

All Done!

We rinse, clean, and polish the area. You can go back to eating, talking, and living as usual.
Benefits of Porcelain Veneers
Due to their versatile nature, veneers can solve a variety of problems at once: 
Natural Veneers.

We construct our veneers from medical-grade porcelain that gives the veneer a natural color. Because they blend perfectly with other teeth, nobody will realize you have veneers. 

Whiten Your Teeth.

Veneers can keep your smile white for decades. While teeth whitening is effective, it is temporary and dulls over time. On the other hand, veneers are stain-resistant and can quickly whiten your smile for decades. 

Versatile Treatment.

Veneers are a versatile treatment that can fix multiple issues, such as discolored, crooked, crowded, gapped, rotated, slight, chipped, or worn teeth. 

Extremely Durable.

While the word "porcelain" may give it a fragile-sounding name, this couldn't be further from the truth. We build veneers from advanced dental ceramics that can last years with proper care. Generally, 95% of porcelain veneers last ten years or longer without chips or cracks. 

Easy Maintenance.

Unlike other dental procedures, veneers require no special care. You can still eat your favorite foods and act completely normal. While you still should brush and floss regularly, surfaces are low-maintenance. 

Minimally Invasive Procedure.

While we remove a thin layer of enamel, it requires little to no anesthesia. It's less invasive than other dental restorative procedures. 
Porcelain Veneers in Aurora, CO
Veneers offer a plethora of benefits that everyone can enjoy. Dr. Michael Mingle and Dr. Jennifer Rankin are dental experts with decades of relevant experience. Our team is equipped with advanced tools and techniques to ensure each procedure is safe, effective, and durable. 
Schedule an appointment and get started today.