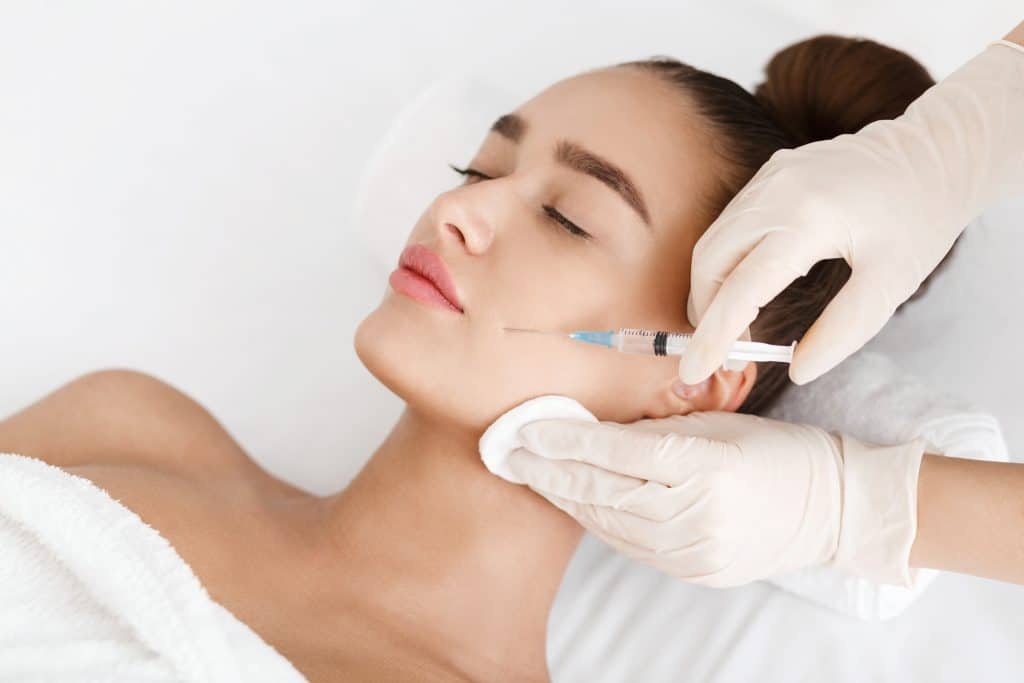 At Rankin and Mingle Dentistry, we offer everyone high-quality dental Botox in Aurora, CO. Our dentists, Dr. Michael Mingle and Dr. Jennifer Rankin, and our team stay up to date on techniques to ensure every procedure is safe, effective, with long-lasting results. With Botox, we'll give you a smile you'll be excited to share. 
What is Botox?
Botox was originally a cosmetic drug used to relax muscles and reduce wrinkles. Today, we use Botox in the dental field to help with various issues such as high lip lines, TMJ, lip lines, and reshaping the smile. 
Steps of Botox? 
While steps may vary according to the individual, there are five general steps: 
Make a consultation appointment.

Before administering Botox, we review the steps, goals, and process. We'll discuss the risks and benefits. We'll analyze the area to treat and determine how many Botox units will be injected.

Numb the skin.

While usually not necessary, we can apply a topical numbing cream before the injections. The cream will take roughly 15 minutes to set. Once the skin is ready, we can begin. 

Guidelines.

The dentist may mark the areas for the injection site to ensure maximum effectiveness. Depending on the patient and procedure, this may or may not be necessary. 

Injections.

We will inject Botox into the designated area. It only takes a few minutes, and you may experience mild redness, bruising, or soreness around the site.

All done!

Botox will begin to wear in about a week and last roughly 3-4 months. You may visit us occasionally so we can monitor progress and discuss the next round of Botox if necessary.

 
Benefits of Botox
Botox isn't just a cosmetic drug with a one-time use, but a helpful ally with many benefits: 
Botox can relieve migraines and headaches.

Botox prevents muscles from contracting, which reduces and even eliminates headaches and migraines. Due to its soothing nature, Botox can relax muscle tension. 

Botox can help you look younger.

Botox smooths wrinkles, aging lines, and puckered chins. It provides a cosmetic boost that you'll be proud to carry around. 

Botox is temporary.

All Botox treatment is temporary, which can give you peace of mind before deciding to pursue treatment. After all, all effects are short-term. If you enjoy the results of Botox, you'll need to reapply every few months. 

Botox is safe.

Yes! Botox injections are generally safe when performed by an experienced doctor. While rare, side effects and complications include: pain, swelling, bruising, headaches, crooked smile, eye dryness, or excessive tearing. 

Botox can treat TMJ and bruxism.

TMJ is a temporomandibular disorder that affects the jaw muscles, joints, and nerves. Bruxism is a medical condition where the patient grinds and clenches the jaw. With Botox, we can soothe, relieve, and destress these areas. 
Why Choose Rankin and Mingle Dentistry? 
Rankin and Mingle Dentistry provide the highest quality treatments in the Aurora, Colorado, area. We pride ourselves on practicing modern techniques and using the most advanced tools available. When you choose Rankin and Mingle Dentistry, you decide to invest in a bright dental future. 
Botox in Aurora, CO
It's never been easier to get a Botox treatment in Aurora, Colorado. Dr. Michael Mingle, Dr. Jennifer Rankin, and our team can use Botox to give you a cosmetic boost.
Get started with Botox today, and schedule an appointment here.